Health Alert
LEVEL 2 - PRACTICE ENHANCED PRECAUTIONS
MERS in the Arabian Peninsula
Updated January 27, 2015
Updated: January 26, 2015
What is the Current Situation?
Countries in or near the Arabian Peninsula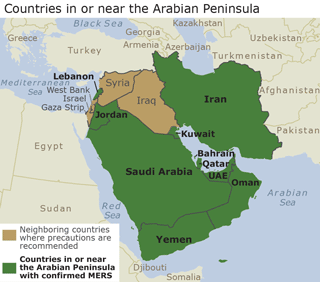 Cases of MERS (Middle East Respiratory Syndrome) have been identified in multiple countries in the Arabian Peninsula.* There have also been cases in several other countries in travelers who have been to the Arabian Peninsula and, in some instances, their close contacts. Two cases have been confirmed in two health care workers living in Saudi Arabia who were visiting the United States. For more information, see CDC's MERS website.
CDC does not recommend that travelers change their plans because of MERS. Most instances of person-to-person spread have occurred in health care workers and other close contacts (such as family members and caregivers) of people sick with MERS. If you are concerned about MERS, you should discuss your travel plans with your doctor.
What is MERS?
MERS is a viral respiratory illness first reported in Saudi Arabia in 2012. It is caused by a virus that is different from any other virus that has been previously found in people. Symptoms of MERS include fever, cough, and shortness of breath. CDC is working with the World Health Organization and other partners to understand the public health risks from this virus.
What can travelers do to prevent MERS?
All travelers
All travelers can take these everyday actions to help prevent the spread of germs and protect against colds, flu, and other illnesses:
Wash your hands often with soap and water. If soap and water are not available, use an alcohol-based hand sanitizer.
Avoid touching your eyes, nose, and mouth. Germs spread this way.
Avoid close contact with sick people.
Be sure you are up-to-date with all of your shots, and if possible, see your health care provider at least 4–6 weeks before travel to get any additional shots.
Visit CDC's Travelers' Health website for more information on healthy travel.
Health care workers
People who are traveling to provide health care services in the Arabian Peninsula should review CDC's recommendations for infection control of confirmed or suspected MERS cases.
Exposure to camels
The MERS virus has been found in some camels, and some MERS patients have reported contact with camels. However, we do not know exactly how people become infected with the virus—many people with MERS have had close contact with a person sick with MERS.
The World Health Organization has posted a general precaution for anyone visiting farms, markets, barns, or other places where animals are present. Travelers should practice general hygiene measures, including regular handwashing before and after touching animals, and avoid contact with sick animals. Travelers should also avoid consumption of raw or undercooked animal products. For more information, see http://www.who.int/csr/disease/coronavirus_infections/faq/en/
.
The World Health Organization considers certain groups to be at high risk for severe MERS; these groups include people with diabetes, kidney failure, or chronic lung disease and people who have weakened immune systems. The World Health Organization recommends that these groups take additional precautions:
Avoid contact with camels.
Do not drink raw camel milk or raw camel urine.
Do not eat undercooked meat, particularly camel meat.